Aaron Klein, WND.com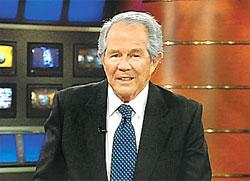 President Obama's faith adviser, Eboo Patel, likened television evangelist Pat Robertson to Osama bin Laden, calling both "totalitarians" who worked collectively against coexistence.
The statements by Patel mark the latest in a series of controversial remarks by the faith adviser to be reported by WND, including comments against the U.S. and Christianity.
In February 2010, Obama named Patel to his Advisory Council on Faith-Based and Neighborhood Partnerships.
Patel, a Muslim activist, is the founder and executive director of Chicago-based Interfaith Youth Core, which says it promotes pluralism by teaming people of different faiths on service projects.
In his 2007 book, Acts of Faith: The Story of an American Muslim, the Struggle for the Soul of a Generation, reviewed by WND, Patel compared Robertson to the now late al-Qaeda chief.
Wrote Patel: "Religious totalitarians have the unique advantage of being able to oppose each other and work together at the same time.
"Osama bin Laden says that Christians are out to destroy Muslims. Pat Robertson says that Muslims want only to dominate Christians. Bin Laden points to Pat Robertson as evidence of his case. Robertson points to bin Laden as proof of his."
Continued Patel: "Bin Laden says he is moving Muslims to his side of the faith line. Robertson claims he is moving Christians to his. But if you look from a certain angle, you see that they are not on opposite sides at all. They are right next to each other, standing shoulder to shoulder, a most unlikely pair, two totalitarians working collectively against the dream of a common life together."
Patel failed to point out bin Laden incited violence and directed and planned terrorism targeting civilians, while Robertson routinely condemns terrorism.
Robertson is the founder of numerous organizations and corporations, including the American Center for Law and Justice and the Christian Broadcasting Network.
He is the host of The 700 Club, which airs on cable channels throughout the United States and on CBN affiliates worldwide.