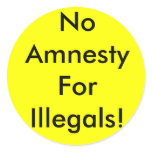 Obama's new administrative amnesty program, which requires immigration officials to dismiss cases against illegal immigrants who do not have an additional criminal record, goes into effect this week. While the vast majority of Americans disapprove of the program, few appreciate just how many illegal aliens Obama plans to release.
The Pew Hispanic Center estimates there are 11.2 million illegal immigrants in the United States. Others place that number at 13 million or more. Of those, just over 300,000 are currently facing deportation.
That means at most 2.6 percent of illegals in the United States face deportation, the penalty required by law.
However, the Los Angeles Times reports, "Fewer than 20% of the cases in immigration courts involve people with criminal records beyond immigration violations, according to the Transactional Records Access Clearinghouse, a research group based at Syracuse University." More than 80 percent of these pending cases would be dismissed under Obama's administrative rule.
Of the 300,000 illegal immigrants facing deportation….
Read more of Ben Johnson at FloydReports.com.