By Andrew Cline, American Spectator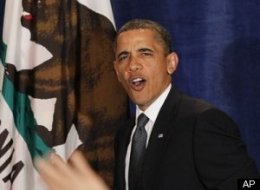 Obama certainly has his priorities straight
With oil from the still-gushing, five-week-old Deepwater Horizon leak lapping unimpeded into the marshes of Louisiana, on Tuesday the President of the United States jetted past the oily Gulf to a San Francisco fund-raiser for Sen. Barbara Boxer, held, incredibly, at the home of the 350th richest person in America — Gordon Getty, inheritor of the Getty Oil fortune. Hollywood satirists couldn't make this stuff up.
If nothing else, Barack Obama has his priorities. This was the president's second trip to California to raise money for Sen. Boxer in two months. His first was the day before the Deepwater Horizon explosion. Then, he went to Los Angeles and held three fund-raisers that collected more than $3 million for Boxer and the DNC. His Tuesday haul, 35 days after the start of the as yet uncontained leak, was a reported $1.7 million for Boxer and the Democratic Senatorial Campaign Committee. Extinguishing emergencies is not this president's strong suit, but he is one fine raiser of cash.
Understandably, California is where the president goes to raise money for Democrats. Compared to the rest of America, it is a hotbed of vibrating passion for the Party of Big Government. (It also is on the verge of bankruptcy, but never mind.) In the last four years, Democratic registrations in California have risen from 42.7 percent of registered voters to 44.6 percent, while Republican registrations have fallen from 34.6 to 30.8. The especially friendly territory, though, is San Francisco, where this president retreats when it's time to vent about those retrograde elements elsewhere in this country too backward and ignorant to support his far-sighted agenda.